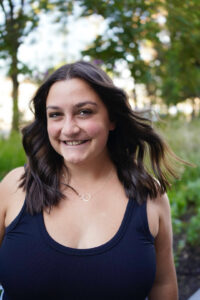 Pursuing a career in: I am looking to bridge the gap between public relations, marketing, and advertising with sustainable and environmentally conscious choices. While there's not a specific job title, I hope to help companies have a better understanding of their environmental impact while accurately portraying that to their consumers.
Education: I am a recent 2023 graduated from Suffolk University, where I studied public relations with a minor in environmental studies. I am currently working toward my Masters of Science at Northeastern University studying environmental science and policy.
Interests/Hobbies: Since I'm in graduate school, my biggest hobby right now is studying and focusing on passing. Other than that, I'm a big sports fan, especially baseball and hockey. I also love roaming around the city and trying out the occasional workout class.
Pursuing a career in: I am looking to bridge the gap between public relations, marketing, and advertising with sustainable and environmentally conscious choices. While there's not a specific job title, I hope to help companies have a better understanding of their environmental impact while accurately portraying that to their consumers. Education: I am a […]