With nicer weather FINALLY starting to roll in, get a head start on some of the hottest looks you'll be sure to see around this spring.
SCRUNCHIES!!
Not just for keeping your hair out of your face while you jazzercized in the 80's . Now scrunchies can be an incredibly stylish & chic way to add a lil something extra to your look. Whether it be a top knot or simple pony like these ponies or topknot by JOI stylist Amanda (topknotbalayage) in the April issue of Beautylaunchpad Magazine. In many different colors & textures, these new school scrunchies can up your style factor!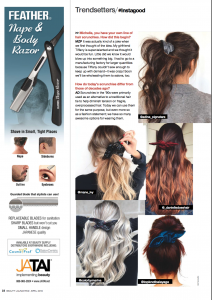 BANGS BANGS BANGS!
Bangs are so in right now, no matter what your haircut is. They pair well with shags, long lengths and short bobs. What's also great is that they don't need to be perfectly polished, undone textured bangs keep your look more modern and less 4th grade cringe worthy.
BOBBY PINS
We all have them, and we all manage to lose them as soon as we take them out (RIP). These simple little pieces can add a major punch to your look. Whether in plain black, or more jazzed up metallic colors such as gold; stack them up behind one of your ears to look like the ultimate cool girl!
HEADBANDS
In so many styles and colors, you too can channel your inner Serena Van Der Woodsen & Blair Waldorf. Over sleep and don't have time to style your hair? Throw on a headband!
SHAG
Textured shaggy cuts enhance movement, especially through the ends and fringe area. Let your hair airdry with a texturizing cream or salt spray to enhance your natural texture, or use your flat iron to create loose bends in the hair.