Fall is a wonderful time of year, especially here in Boston. Crisp air and colorful leaves set the tone for change all around, especially with your hair! Keep reading to see the hottest Hair Color & Hair Style trends for the season!
Cold Brew Hair:
This color can be so versatile, just like the many different kinds of specialty coffees we all love to have each day. Varying tones of neutral and golden hues mixed into a dark base, mimicking putting cream or maybe some caramel syrup into your coffee. The result can be either bold or soft, but always dimensional.
Warm Golden Tones:
yes, yes, YES!! Golden tones are so flattering on so many skin tones. From subtle gold to strawberry, theres a tone for everyone! Feeling like your summer color is now lacking shine and depth? Ask your stylist for a golden hued gloss that will best suit your skin tone, then you'll be shimmering right into the upcoming holiday season!
Chili Chocolate Hair:
This rich spicy shade was created by our very own Balayage Specialist here at Joi, Amanda Leaman that was featured in Allure! "It's the hair color equivalent of one of those artisanal chocolate bars that somehow always cost over $10. But instead of disapearing in a few bites, this sultry mix of flavors is here to bless your brunette strands with a dash of rich auburn. Best of all, Leaman created the shade to capture the effect of sun kissed hair, so we're not totally leaving summer behind." -Allure. This look is great for brunettes who are looking for a change, without having to go drastic and become a blonde. Click here to read the full Allure article!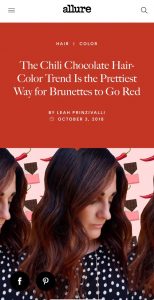 Curtain Bangs:
Growing out your bangs? Try parting them down the middle for a sultry face framing curtain effect! They can be as short as your brows or grazing your cheeks, either way you're bound to look instantly chic!
Modern Shag:
Play up that TEXTURE!! For a while people were afraid of having anything other than long layers or a one length haircut. Now is the time to spice things up with some added texture by incorporating some shorter layers in your cut. Have wavy or curly hair? This cut will play up that beautiful natural texture you have! Afraid that cutting shorter layers will make your hair look shorter overall while you're trying to grow out your haircut? Having shorter layers can actually make your hair look LONGER, adding some contrast and interest to your long locks.
Middle Part:
Not just for the Kardashians! Side parts have been a go to for years now, but why not switch things up! Switching your part from the side to the middle can completely change your look without having to do a major chop! Go on and give it a try, you'll look effortlessly cool girl!
Which trend are you thinking of trying out this season? We can't wait to see =)