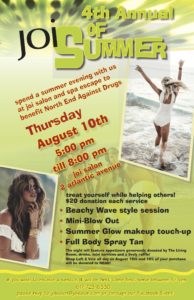 Joi Salon and Spa Escape will be hosting our 4th Annual Joi of Summer fundraising event. All proceeds from this fun night will benefit the North End Against Drugs. This local organization services the youth and families of the North End by hosting structured events and outings, donating school supplies and more to the youth of the community along with providing gernerous scholarships. Their motto is "It's All About Family". At Joi, we are a team of talented service providers and customer service individuals who think of ourselves as our own family.
We love coming together for this annual event because it gives us the opportunity to step outside of our day-to-day work and put our efforts together to give back directly to the community in which we work every day. It's always a fun night of beauty services, a lively raffle, and amazing food and drinks donated from other local businesses!
Last year we raised over $3,000 to benefit this amazing organization! We would love to be able to surpass that this year!!
This year the night will feature appetizers generously donated by The Living Room!
Shop at Loft & Vine all day on August 10th and 10% of your purchase will be donated to NEAD!
Pop-up tables from soon to be announced businesses from the neighborhood!
Treat yourself while helping others with a $20 donation for each of the following beauty services:
*Beachy Wave style session
*Summer Glow makeup touch-up
List of raffle items will be updated as it grows closer to the event so be sure to keep a look out! Previous years raffles included: gift cards, gift baskets, food & beverages, sports equipment, sporting event tickets and much more!
If you are unable to attend but would wish to make a donation you can make a donation through the fundraisers gofundme page:
https://www.gofundme.com/4th-joi-of-summer-fundraiser
We hope to see you there!!